Custom Pool Installation in Dallas, TX
Dreaming of a pool makeover? Whether you're looking to modernize an outdated design or add some new features, pool remodeling can transform your backyard into a personal oasis. At Advance Pools, we're here to help you bring that dream to life.
Luxury Pool Designs
We specialize in creating pools that redefine extravagance and sophistication. Whether you desire a lavish infinity-edge pool, a resort-style oasis, or a pool with unique water features, our luxury pool designs elevate your outdoor space to a realm of unparalleled refinement and relaxation."
Classic Pool Designs
Our classic pool designs embrace simplicity, balance, and symmetry, creating a harmonious oasis that stands the test of time. Whether you envision a Roman-inspired retreat or a traditional rectangular pool, our classic pool designs seamlessly blend with your outdoor space, offering a touch of timeless charm and relaxation.
Relaxing Spas
We specialize in crafting spa retreats that offer a sanctuary of tranquility and serenity. Our spa designs are dedicated to creating an oasis of wellness, featuring luxurious elements like soothing jets, therapeutic seating, and elegant finishes. Whether you seek a cozy and intimate spa or a spacious wellness haven.
Why Advance Pools is the Go-To Pool Company in Dallas and Beyond
Since our inception in 1994, we've been committed to delivering unparalleled quality and innovation. Our boutique-style approach means every project gets the attention it deserves. With a legacy built on excellence and a team driven by passion, it's no wonder we're the preferred choice for many in Dallas and beyond.
Pool Remodeling in Dallas
You understand the value of a well-maintained and aesthetically pleasing pool; it's not just about having a place to cool off during those hot summer days. 
It's about creating a space where memories are made. And sometimes, that space needs a little updating.
How Long Does the Pool Construction Process Typically Take?
Pool remodeling is the process of making changes to an existing pool to improve its appearance or functionality — or both. 
That may mean making simple updates, like changing the tiles or resurfacing the pool, or it may mean more extensive renovations such as reshaping, adding water features, or even incorporating a spa. 
It's all about tailoring your pool to fit your current needs and preferences.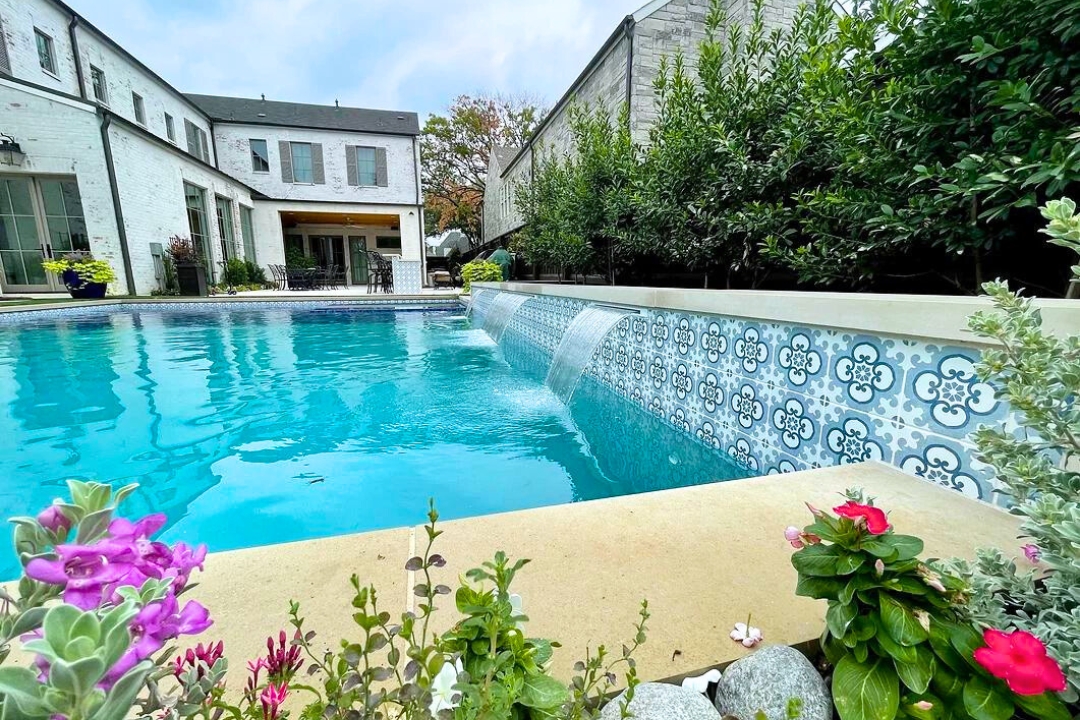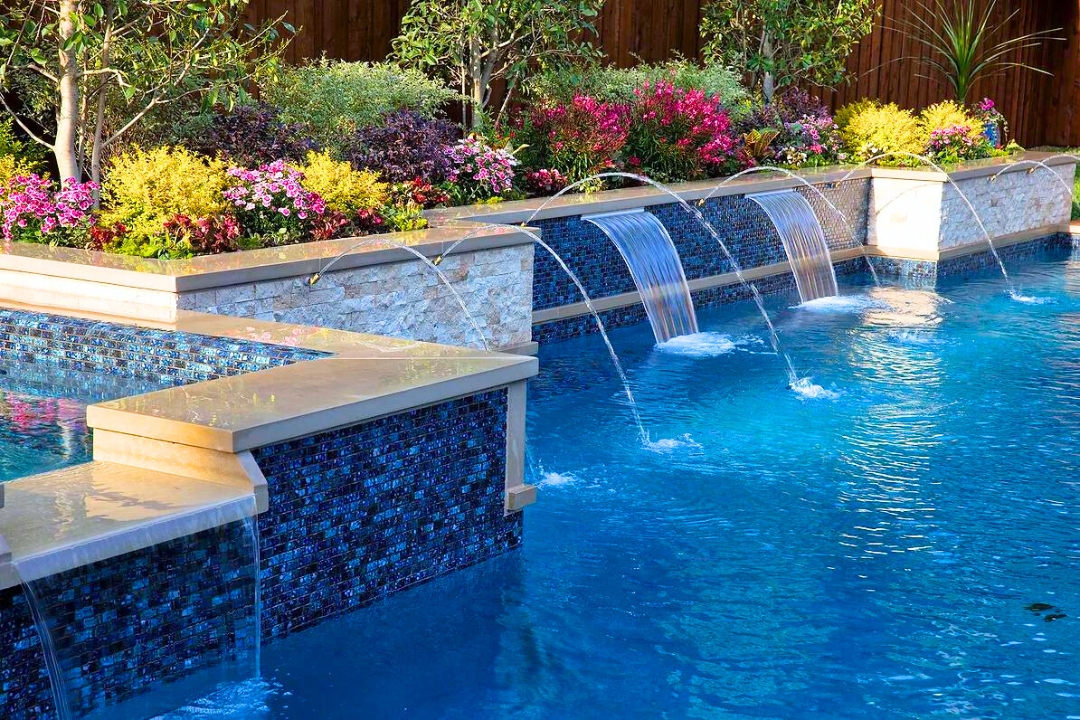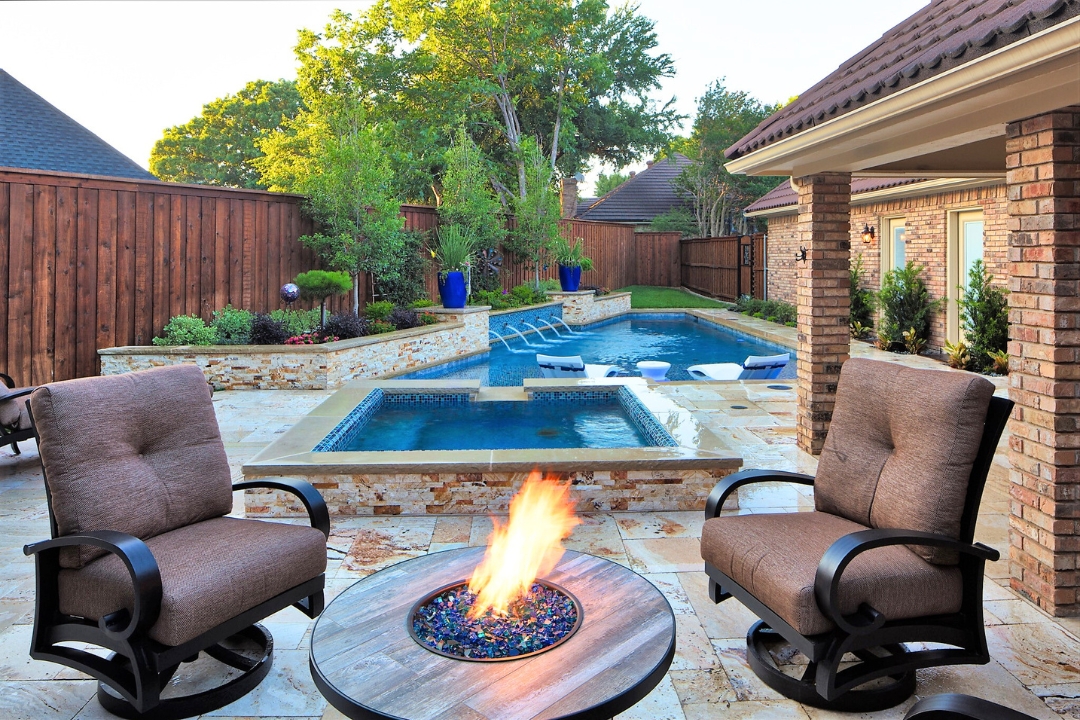 The Pool Remodeling Process, Explained
Remodeling a pool involves several steps to ensure the final result meets your expectations. The following sections outline Advance Pools' remodeling process.
Pool Remodeling Step 1: Consultation
The consultation is the first — and one of the most crucial — steps in the remodeling process. During this stage, we sit down with you to find out what you're looking for. Whether you have specific design elements in mind or are looking for guidance on the latest trends, this is the time to share. By understanding your preferences, desired features and overall vision, we can tailor our approach to exceed your expectations.
Pool Remodeling Step 2: Pool Assessment
Before we dive into the design, we get a clear picture your pool's current state. Our team will conduct a comprehensive inspection to evaluate its structural integrity, system functionality, and any wear and tear that may be affecting its performance. We identify potential challenges right away to make the whole remodeling process easier and more efficient.
Pool Remodeling Step 3: Design
With the insights from the consultation and assessment in hand, our design team gets to work. They'll craft a detailed design that encapsulates your vision. And don't worry; this isn't a one-size-fits-all approach. It's a bespoke design tailored to your preferences. After our initial design is ready, we'll present it to you for review. Your feedback is invaluable, and we encourage you to suggest changes or modifications. We won't move on to the next step — construction — until you're completely thrilled with the design.
Pool Remodeling Step 4: Construction
With a clear design blueprint to guide us, we start to transform your swimming pool. That may involve tasks like resurfacing the pool, reshaping its boundaries or integrating new features. Our team of skilled professionals ensures that each task is executed with precision and care, keeping disruption to a minimum and adhering to the highest standards of workmanship.
Pool Remodeling Step 5: Final Touches
Construction might be complete, we aren't done yet. We add the final touches to refine and perfect your newly remodeled pool, from installing lighting to adding decorative elements. We pay attention to every minute detail.
Pool Remodeling Step 6: Quality Check
We take immense pride in our work, and before we consider a project complete, we conduct a rigorous quality check. This involves inspecting every aspect of the remodeled pool, from its structural integrity to the functionality of its systems and the precision of its design elements. We ensure that the pool looks just right and operates flawlessly.
Speak To A Professional Today!
Ready to transform your backyard into a luxurious outdoor oasis with a custom pool?
Speak To A Professional Today!
Ready to transform your backyard into a luxurious outdoor oasis with a custom pool?
How Long Does Pool Remodeling Take?
Swimming pool remodeling timelines can vary greatly from pool to pool. Simple and minor changes, such as a new tile finish or a simple resurfacing, may only take a matter of days. 
However, if you're going for a complete transformation, incorporating multiple new features or changing your pool's shape, the process can extend to several weeks. 
It's essential to have a clear discussion with us about your expectations and requirements so we can provide you with an accurate timeline.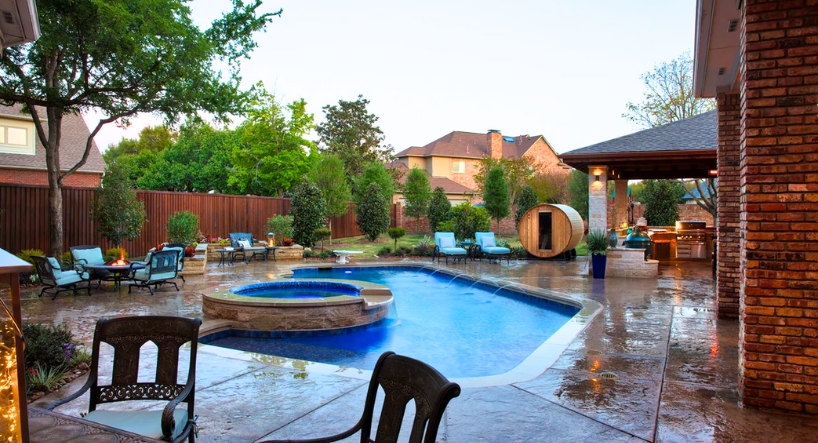 What Features Can I Add During Remodeling?
If you can dream it, we can do it. Whether you're looking for aesthetic enhancements like waterfalls, fountains or decorative tiles that add a touch of elegance to your pool or you'd like to improve your pool's functionality with features like energy-efficient LED lighting, automated pool covers, or advanced filtration systems, we have you covered. Thinking about adding features like fire pits, swim-up bars or even a spa section? We can do those things, too. During our consultation, we'll present you with a wide range of options — and at the same time, we'll help you build upon or develop your own ideas.
Is Remodeling More Cost-Effective Than Building a New Pool?
Remodeling an existing pool is often more cost-effective than constructing a new one. When you remodel, you're building upon an existing structure, which means many of the foundational elements are already in place. This can save on costs related to excavation, plumbing and electrical installations. Remodeling also allows you to refresh and update your pool's appearance and functionality without the significant expenses associated with starting from scratch. However, the exact cost savings will depend on the extent of the remodeling and your pool's current condition.
Can I Remodel My Pool to Make It Bigger or Deeper?
You can definitely modify the size and depth of your pool during a remodeling project. If you feel that your pool is too shallow or if you want to add a diving board, we can deepen it. Similarly, if you want more space for swimming or lounging, we can expand its width or length (or both). We'll work closely with you to understand your requirements and make the necessary adjustments while ensuring the pool remains safe and durable.
Designing Your Oasis: Explore Our Showcase
Step into a world of awe-inspiring aquatic artistry and outdoor living elegance by visiting our gallery. Here, you'll find a curated collection of our proudest creations—custom pools that exude luxury, spa installations that promise relaxation, and outdoor features that redefine outdoor living.