Custom Pool Installation in Dallas, TX
If you're dreaming of a luxurious oasis right in your backyard, you're in the right place. At Advance Pools, Inc., we're passionate about turning your dreams into reality. From beautifully designed custom infinity pools to in-ground recreational swimming pools, we have the experience and knowledge necessary to create exactly what you want.
Luxury Pool Designs
We specialize in creating pools that redefine extravagance and sophistication. Whether you desire a lavish infinity-edge pool, a resort-style oasis, or a pool with unique water features, our luxury pool designs elevate your outdoor space to a realm of unparalleled refinement and relaxation."
Classic Pool Designs
Our classic pool designs embrace simplicity, balance, and symmetry, creating a harmonious oasis that stands the test of time. Whether you envision a Roman-inspired retreat or a traditional rectangular pool, our classic pool designs seamlessly blend with your outdoor space, offering a touch of timeless charm and relaxation.
Relaxing Spas
We specialize in crafting spa retreats that offer a sanctuary of tranquility and serenity. Our spa designs are dedicated to creating an oasis of wellness, featuring luxurious elements like soothing jets, therapeutic seating, and elegant finishes. Whether you seek a cozy and intimate spa or a spacious wellness haven.
Why Advance Pools is the Go-To Pool Company in Dallas and Beyond
Since our inception in 1994, we've been committed to delivering unparalleled quality and innovation. Our boutique-style approach means every project gets the attention it deserves. With a legacy built on excellence and a team driven by passion, it's no wonder we're the preferred choice for many in Dallas and beyond.
The Pool Construction Process
Building a pool is about so much more than digging a hole and filling it with water. It's about understanding your vision, creating the right design and bringing that design to life. From our initial consultation to the final touches, we ensure you enjoy a seamless and transparent process, and that you're informed and involved every step of the way.
Constructing a pool is a multi-step process that requires careful planning, execution and communication. Here's a detailed breakdown of the steps involved:
Initial consultation: Before we begin construction, we'll sit down and talk with you. We'll discuss your vision, including the size, depth, shape and special features you want. We need to understand your preferences and needs.
Site survey and analysis: After we have a clear understanding of your vision, our team will conduct a site survey. We'll assess the space available, check out the soil type and access options for construction equipment, and identify potential challenges. This step ensures that the pool design is feasible and will work in your backyard.
Design and blueprint creation: Based on the information gathered during the consultation and site survey, our design team will create a detailed blueprint of the pool. 
This will include the pool's layout, depth, placement of steps or ladders, and locations for special features like waterfalls. You'll have the opportunity to review this design, make changes and give your final approval before construction begins.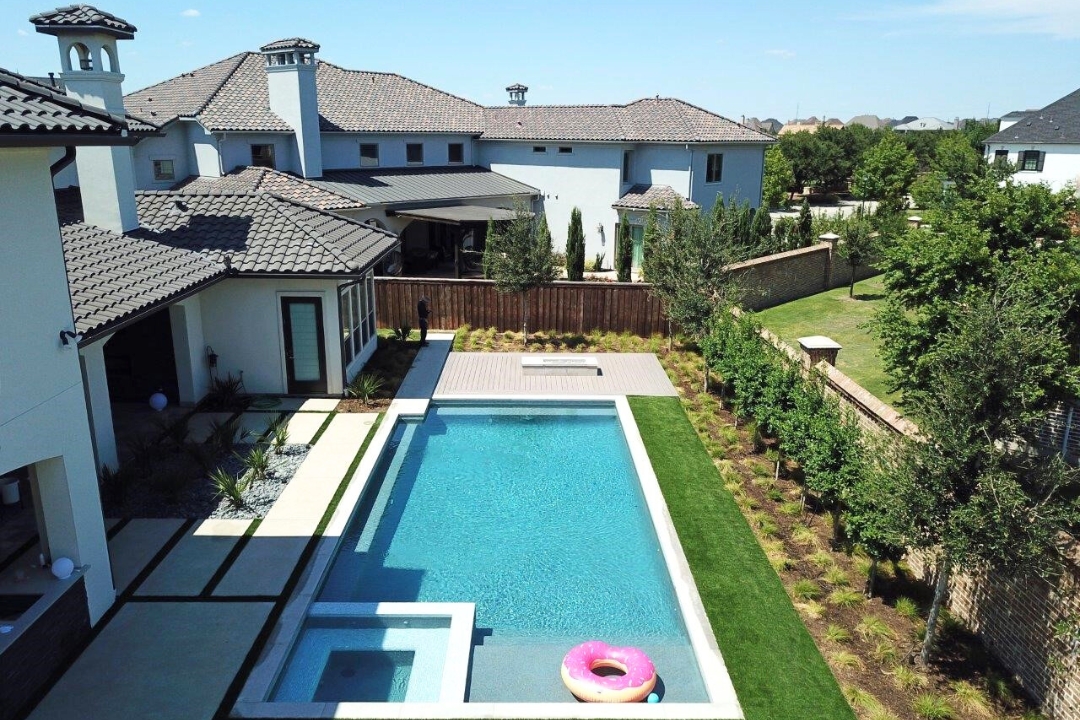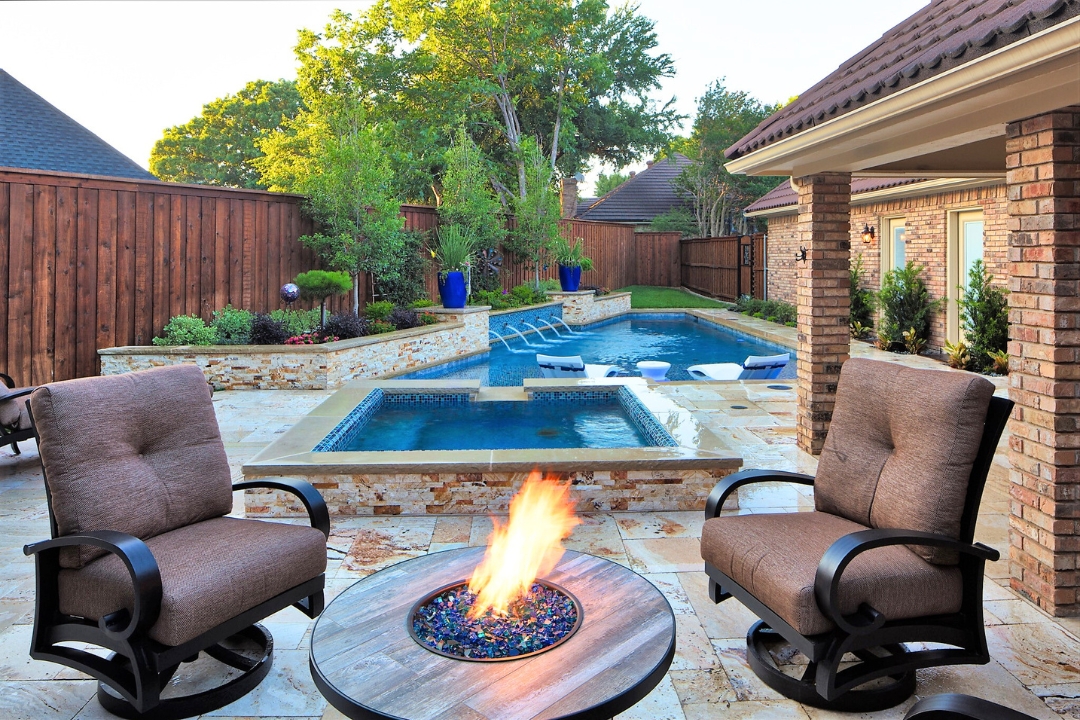 Excavation: With the design in hand, the actual construction process begins with excavation. This is where we dig out the area that will contain your pool. The depth and shape will be based your design — and don't worry: We remove excavated soil from the site.
Framing and reinforcement: After excavation, we set up a frame around the dug-out area to shape the pool. We then place reinforcing steel bars within the frame to strengthen the pool structure and ensure its longevity.
Plumbing and electrical installation: Before we fill the pool, we install all the necessary plumbing for water circulation and filtration. This includes pipes, pumps, drains and electrical components, such as lighting and heating systems.
Pool shell construction: The next step involves creating the actual shell or body of the pool. This is typically done using concrete, which we pour into the framed and reinforced area. Once set, the concrete forms a sturdy and watertight shell for the pool.
Finishing touches: With the shell in place, we can finish the pool's interior. This step can involve tiling, plastering, or adding a vinyl liner; it depends on the design you choose. We also construct the area around the pool using materials like concrete, stone or tiles.
Filling and balancing: After everything is set, we fill the pool with water. Then, we adjust the water's chemical balance so it's safe for swimming. This involves checking and adjusting pH levels, chlorine content and other essential parameters.
Final inspection and hand-over: Before telling you to dive in, we'll conduct a final inspection to ensure everything is in order and meets our quality standards. We'll then provide you with guidance on pool maintenance, safety precautions and other essential information.
Throughout each of these steps, communication is key. We keep you informed about the progress, address any concerns you might have, and ensure that the final product aligns perfectly with your vision. With Advance Pools, Inc., the pool construction process is not just about building a pool; it's about creating a lasting relationship based on trust, quality and satisfaction.
Speak To A Professional Today!
Ready to transform your backyard into a luxurious outdoor oasis with a custom pool?
Speak To A Professional Today!
Ready to transform your backyard into a luxurious outdoor oasis with a custom pool?
Pool Options: Creating Your Dream Space in Your Backyard
Your pool should be as unique as you are. That's why we offer a wide range of customization options. Whether you're looking for design-sensitive pools, special water features, custom tiling or even fire elements, we have the expertise to make it happen. Your backyard is a canvas, and we're here to help you paint your masterpiece.
How Long Does the Pool Construction Process Typically Take?
The primary factor in how long pool construction takes is its design. We'll most likely finish a simple, straightforward design — say, a rectangle — faster than we would finish a complex design with intricate features.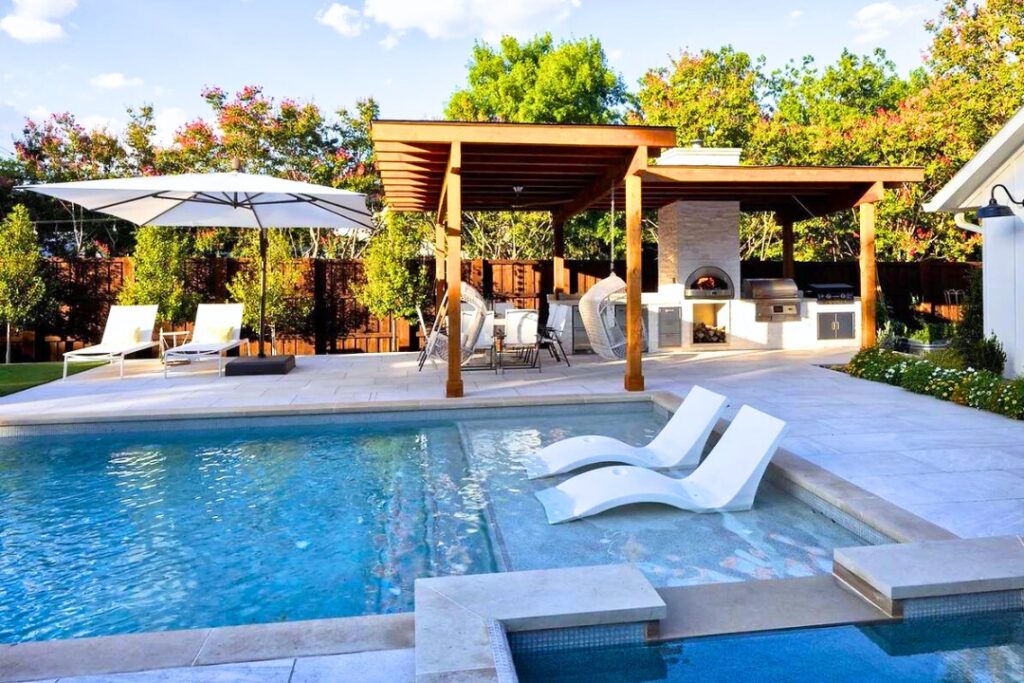 What Customization Options Do You Offer?
We believe that every pool should reflect the individual tastes and preferences of its owner. To achieve this, we offer a wide range of customization options. We can help create unique floor designs with custom tiling; we can add a touch of nature by integrating waterfalls into your pool's design. Enjoy evening swims? We can add fire elements for ambiance and warmth. These are just a few examples of what we can do — and our team is always ready to discuss and implement specific features or designs you have in mind.
What Makes Advance Pools Stand Out?
Advance Pools, Inc. isn't just another pool construction company. Our longstanding presence in the industry, having been established in 1994, is a testament to our dedication to quality and customer satisfaction. Over the decades, we've honed our skills, adopted the latest techniques, and stayed committed to delivering the best to our clients. Unlike larger, more commercial companies, we operate with a boutique approach. This means each project receives individual attention, and our clients have direct communication with our team. This personalized approach ensures that every pool we construct is a perfect fit for the homeowner.
Are There Any Hidden Costs I Should Know About Before I Get a New Pool?
When you choose Advance Pools, Inc. for your pool construction, you're choosing transparency. We understand that financial planning is crucial, so from the start, we provide a detailed breakdown of all the costs — including materials, labor, additional features and other relevant expenses. We provide a clear and honest pricing structure so you can plan your budget without any worries.
Designing Your Oasis: Explore Our Showcase
Step into a world of awe-inspiring aquatic artistry and outdoor living elegance by visiting our gallery. Here, you'll find a curated collection of our proudest creations—custom pools that exude luxury, spa installations that promise relaxation, and outdoor features that redefine outdoor living.